Maximum comfort and ease of putting on or taking off are an absolute must for wig installation. To achieve that, you need to know how to measure your sizes correctly for a wig.
If the wig is too small, you'll get a headache within 10 minutes; if the wig is too large, it looks unnatural on you.
The size of the wig is relatively fixed, no matter which brand you buy or from anywhere. Once you know your sizes, you can purchase a wig from any place, and it would fit you well.
Ok, here we go!
Measurement Preparation
Get Your Natural Hair Ready
1. If your hair is short, you can comb your hair backward.
2. If your hair is long, pull it back as tight as you can into a bun or a low ponytail.
Put On Wig Cap
We recommend putting on a wig cap strongly. It will help keep the wig on all day and protect your natural hair. And it's exactly how your hair would be under a wig.
Apply powder to the wig cap to make it better match your skin tone.
Use A Flexible Tape Measure
When you're doing the measurement, use a flexible tape measure. Don't put it too tight because you do not want your wig to be tight. It will be uncomfortable to wear. The lace will irritate your skin.
Wig Size Chart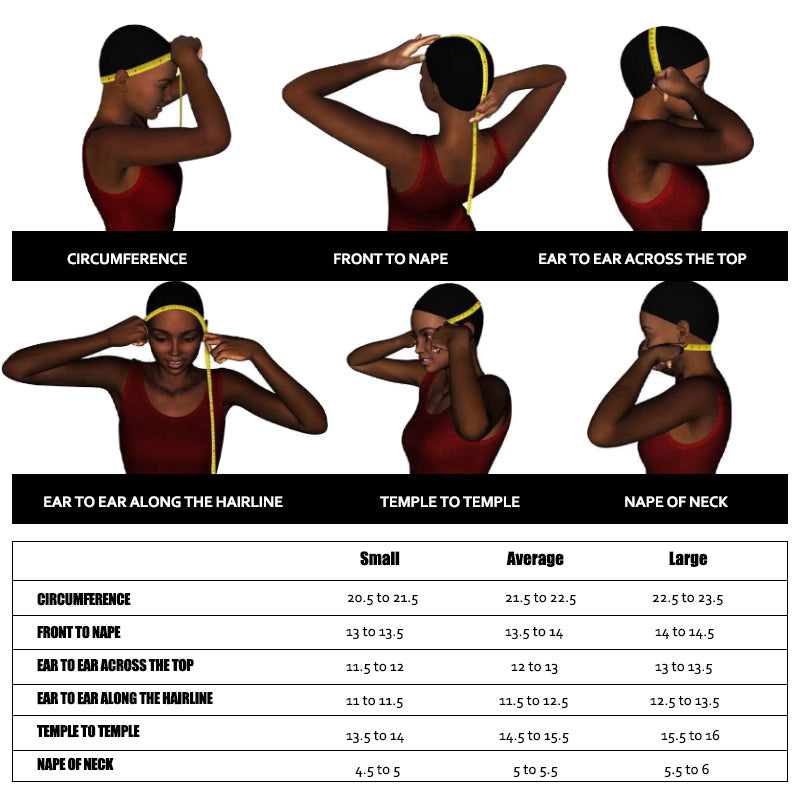 6 Steps To Measure Your Head
Step 1: Measure The Circumference
Wrap the tape around your head. Make sure the measuring tape is not over your ears but on your actual head.
Step 2: Front To Back
Starting where your hairline is in front, put the metal in the middle of your head. Take the measuring tape straight down your head to your nape.
Step 3: Temple To Temple
Place the beginner of the measuring tape at the temple, go around the back of your head at the most curved part, and bring it around to the other temple.
Step 4: Nape Of Neck
Place the measuring tape at one side of your nape and go across to the other side of your neck.
Step 5: Ear To Ear Along Hairline
Take the beginning of the tape right above your ear and then bring it to your other ear. Make sure the center point should be the lowest part of your hairline.
Step 6: Ear To Ear Across The Top
Take the measuring tape on top of your ear and bring it across the top of your head, not too far back, not too far forward, just right across where the frontal would be.
Be More Focus: Which Data Is More Important?
If you're looking for a hand-made customized wig, all of these measurements are necessary and need to be accurate.
If you're purchasing a pre-made wig, the circumference would be your most important concern. If the circumference is too small, you may not be able to wear it. Your hairline will be very low if it's too large, and the wig won't stay flat.
More than 95% of consumers would buy pre-made wigs. Compared to hand-tied wigs, pre-made wigs delivery is much faster. You don't need to wait long to get it. Furthermore, most pre-made wigs can be adjusted by about an inch in all directions.
    All but full lace wigs have the stretch cap. It adjusts the size from front to nape.
    There're hooks on the strap. If you put the hooks towards to center, the wig is tighter. The opposite will be looser. You can adjust the circumference by changing the hook positions.
    There're two straps around the sideburns position inside the wig. You can adjust it like bra straps. It helps adjust the size from temple to temple and makes the hairline stay flat. Thanks to the elastic band, glueless wear becomes much easier.
Conclusion
We hope that you will find the perfect size wig with the help of this guide. Be sure to focus on the most important size - circumference, since you can adjust all the others.
If you plan to try but still worry about the wrong wig size, we offer a hassle-free return and exchange. You can try Victoria's Wig with ZERO risks. We'll cover all the costs. Please get in touch with our service for more details.
If you need a customized wig, we're here to help!
Contact us at customer@victoriawig.com