Many people think of wigs when they want to change their hairstyle. Indeed, compared to perming, dyeing, or cutting your natural hair, a wig is a great option that costs less. More importantly, it protects your hair. If you are a beginner at wigs, maybe your hairstylist or friend will recommend the lace closure wig. 
So what is a lace closure wig?
A lace closure wig is a unit made of a closure and hair bundles sewn together. Usually, the most common sizes of closures are 4X4 inches and 5X5 inches. Of course, you can also customize any size according to your needs.
In the beginning, we used lace closures to cover balding sections caused by hair loss, and because of this, there would be various sizes and shapes required. People started using lace closures to make wig units as the wig industry evolved. It's more convenient and less time-consuming than sewing the lace closures directly onto your natural hair.
A lace closure is a small patch of lace used to close the hair bundles, hence the name. The color of the lace is very close to our scalp. People hand-tie the hair one by one on the lace to simulate the effect of hair growing out of the scalp. That makes it look very natural, and you can do any parting stitch in the lace part to get a very natural result.
Many newbies will not be able to distinguish the difference between lace closure wigs and lace front wigs. If you also have this question, please read on.
What's the difference between a closure and a lace front wig?
Lace closure wig = a lace closure + hair bundles; 

Lace front wig = a lace frontal + hair bundles

Let's look at the pictures of the lace closures and the lace frontals first.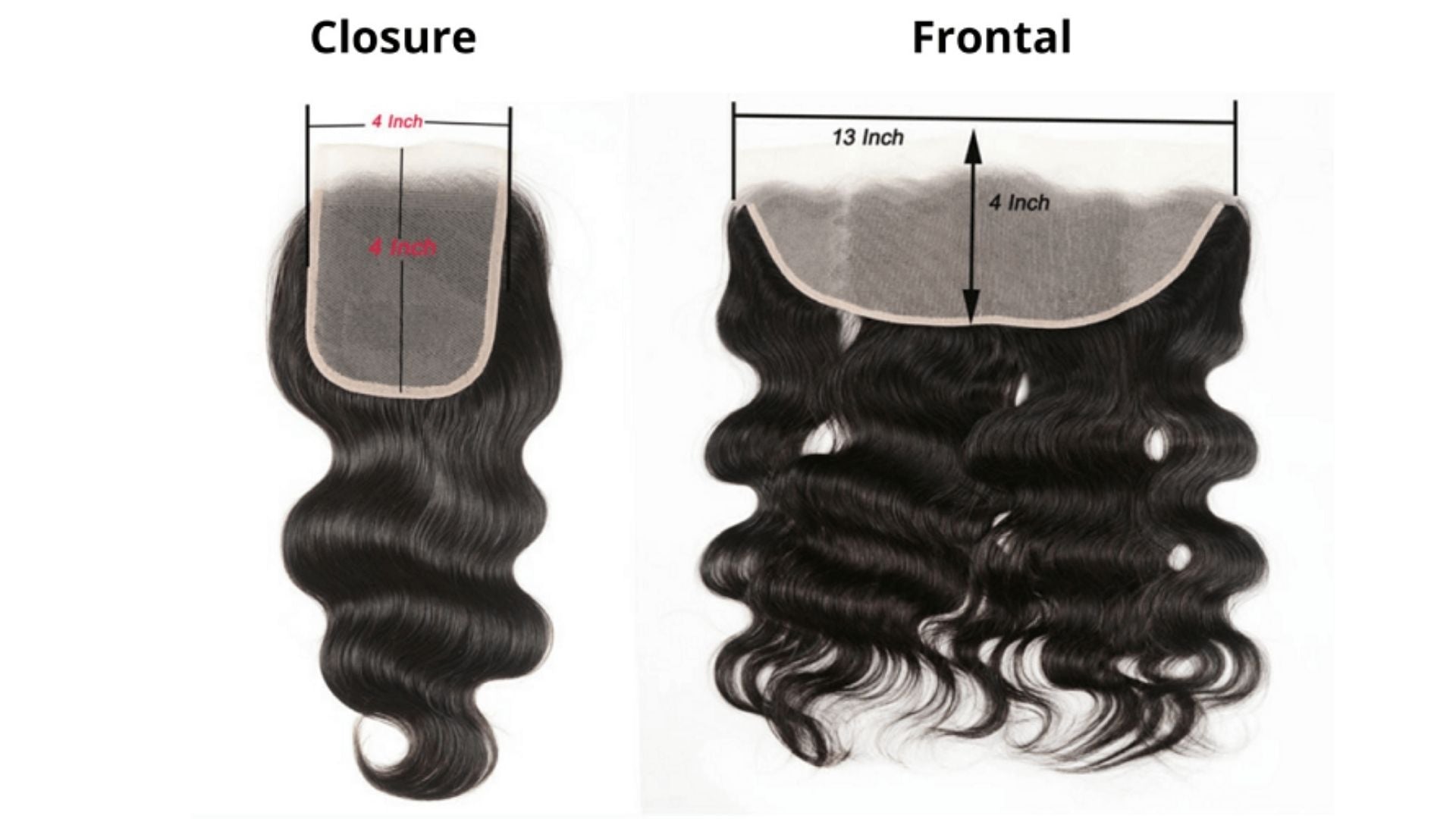 The size of the lace space
The lace frontal has a larger lace area. Since the lace part is entirely handmade, the lace front is more expensive than the lace closure.
Length of hairline
The lace closure usually only covers part of the hairline, determined by the lace closure size. On the other hand, the lace frontal is usually 12-13 inches wide, allowing for a complete hairline from ear to ear.
Versatility
As we said earlier, the larger the lace space, the more natural it will be. Since the lace frontal has a larger lace space, you can go with more different looks. The lace closure wig is not as flexible in this regard.
Lace Closure Wig v.s. Lace Front Wig, Which One Should I Choose?
Choose lace closure wig if:
You're a novice and not very good at lace installation.
More lace space means more work. Since lace has no elasticity, you need to find the best wig cap size, lace color, and some practice - if you want your lace front wig to look flattering and natural.
You want to take it off at night.
If you need to wear it every day - get it done quickly in the morning and take it off at night, you should choose a lace closure wig. If you're out and about and wear a wig all day, there's nothing better than taking it off, especially when you've had a long and hard day.
You're lazy and not good at glue work.
If you're lazy like me, not too confident in your own hands, but want to have gorgeous hair, don't hesitate. The lace closure wigs are here for you.
Choose lace front wig if:
You want to expose the entire hairline.
The lace closure wig covers only a partial hairline, and there is no way to do that.
You want to change your styles often.
Suppose you want to try a different parting (today a left parting, tomorrow a right parting) or try a different look. In that case, the lace closure wig will be very limiting.
If you want to occasionally wear a wig for mood changes, any wig type is ok.
What is HD Lace Closure Wig?
Many people will also ask, what is an HD lace closure wig? HD lace closure wig is also a combination of a lace closure and hair bundles. The only difference is the lace. HD lace is also known as the skin melt lace because it is perfect for light transmission. When you put it on your skin, you'll find it surprisingly - the lace has melted into your skin! No matter what kind of environment, it's hard to see the lace if you are not staring super close. That makes the wig so natural that the hair seems to grow out of your scalp as naturally. That's why HD lace closure wigs are getting very popular nowadays.
How to wear a lace closure wig to make it look natural?
Fix the hairline in place.
Put on the wig like a hat.
Look in the mirror to make sure it stays where you want it to be.
Check if the size suitable for you.
There's an adjustable strap inside on the neck position. Adjust it to the right place until you feel comfortable wearing the wig.

If there's an elastic band inside, adjust it to make the hairline stay flat and a snug fit.
Cut off the excess lace.
If you are new to wigs, it's better to take the wig off and cut the lace. It's safer.
Use combs and clips.
You'll find combs & clips attached inside the wig. 

Start from the top of your head, gently pin the clips & combs to your natural hair.

If you wear a wig cap, skip it. (You can watch the video below for reference)
Use glue to secure.
If you prefer glueless wear, skip it.
Make baby hair.
If you're not a fan of baby hair, skip it.
Here is an installation video tutorial. Welcome to check more details!
Well, I believe you have some understanding of the lace closure wig right now. And below are some tips for daily wear and maintenance. I hope it will help you.
Generally speaking, a qualified human hair wig lasts about one year. If you use it every day and style it often, it will shorten its lifespan. At the same time, daily care is also critical. The following are some tips for the maintenance of a human hair wig. It applies to the lace closure wigs also.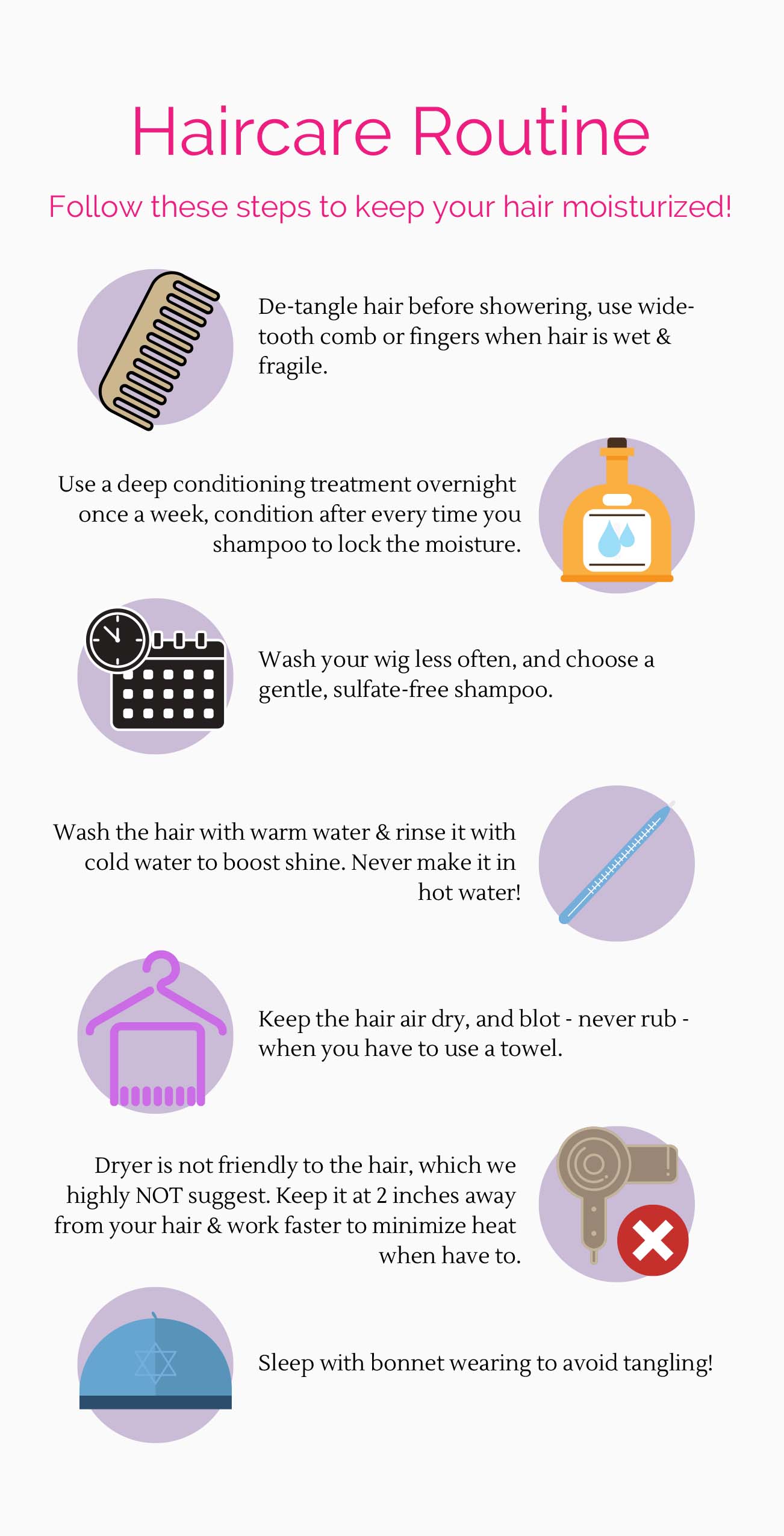 Conclusion
Since many people want to know what the lace closure wig is, we have tried to explain all the details and the differences between lace front wigs. You can check all the information carefully before deciding to purchase one.