Keisha is a big fan of wig units. She's been wearing wigs every day for about 6 years and still has healthy 3C hair to the middle of her back. She never used glue. In this article, we will look at what a glueless wig is, how it works, and some tips to do purchase, care & so on.
What Is A Glueless Wig?
A glueless wig means that glue is NOT a must during the wearing process. Any wig unit that does not require glue to secure it in place can be called a "Glueless Wig."
Of course, the glueless wig is not suitable for everyone. If you are insecure and afraid that your wig will fall off, you can still use glue to secure it.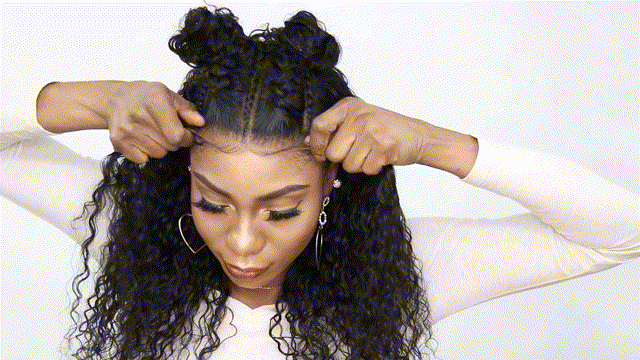 How Does It Work?
Inside the wig, there're combs & clips attached to the top, sides, and back. If you have some natural hair & don't wear a wig cap, they work well. 
1. Tie or braid your hair down;
2. Start from the top of your head, gently pin the clips & combs to your natural hair;
3. Check your wig to make sure it's in the right place. Shake your head slightly to be sure it's secure.
The best part is the elastic band. It helps a lot to adjust the size. You don't need to spend long on measuring & fixing. By attaching an elastic band from ear to ear, it gives a comfortable snug fit.
Why Wear A Glueless Wig?
As for why glueless wigs have become so popular, I think you may already have your answers. Yes, they're easy, convenient, and protective of the scalp. On top of that, imagine in a summer afternoon, glueless wigs that you can snatch off soon as getting in the house. 
Glueless Wigs, Pros & Cons
Pros of wearing a glueless wig
Protective to your hairline

Safe for those allergic to glue and adhesives

Good for natural hair growth. You can always take care of your natural hair as often as you like.

Convenient! Just take minutes to install and remove.
Cons of wearing a glueless wig
If you are a particularly active person, it may slip out.

It may take some time to get used to it.
5 Tips To Help You Get A Satisfied Glueless Wig
Most of us want a glueless wig because it's convenient. You don't want to spend hours processing to make it look more natural. So, here are a few tips to help you choose the correct glueless wig.
1. Make sure the lace is "Undetectable"
There are various types of lace on the market now, including Swiss lace, HD lace, French lace, Korean lace, and so on. If we have to learn and distinguish each kind of lace, it takes a long time. As a wig user, this is not necessary. The easiest way is to make sure that the lace has the description of "Undetectable". That will ensure the quality of the lace at an extent of 80%.
Don't waste time and money on bad lace! Save your money, invest in the right things!
2. Choose a lace color that suits your skin tone.
If the lace is an "Undetectable" one, you don't have to worry. It's suitable for most skin tones.
Well, if not, or you can't be very sure of the lace color, it's better to choose a lighter lace color (or transparent lace) than a darker one. With light-color lace, you can easily cover it up with powder to make it better melt with your skin. For dark-color lace, it will be more time-consuming to deal with.
3. Make sure it comes with "Invisible" knots
No matter what kind of lace it comes in, as long as the knots are too big, it's a disaster. Imagine four or five hairs tied in a knot against your scalp... Okay, stop!
4. Make sure the knots are "Bleached"
Bleached knots make the knots lighter and look more like the hair is growing out of your scalp.
5. Pre-plucked hairline
A transitional natural hairline is the soul of a wig. It's been 2021, so stop shopping wig units that look dull.
Daily Maintenance Of Glueless Wigs
Just like caring for your hair, it's the same for glueless human hair wigs.
Detangle hair before washing, then use wide-tooth comb or finger when hair is wet and fragile.

Use a deep conditioning treatment overnight once a week, condition after every time you shampoo to lock the moisture.

Wash the hair with warm water & rinse it with cold water to boost shine. Never make it in hot water.

Keep the hair air dry, and blot - never rub - when you have to use a towel.

The dryer is not friendly to the hair, which we highly NOT suggest. Keep it at 2 inches away from your hair & work faster to minimize heat when have to.
To Conclude:
Glueless wigs are units that do not require glue to secure them in place. Most of them are available with combs, clips & adjustable elastic bands. They are suitable for almost everyone to wear.