Many wig wearers like to install the wig by themselves. It saves a lot of money, and you can put the wig on or take it off whenever you want. But most beginners don't know well how to make it good-looking. They spend hours installing the wig, only finding they look dull. ( It reminds me of the first time I wore a wig 😂) I started as a very beginner, and now I can install all kinds of wigs quickly and natural-looking. Here are 7 steps I have for installing a lace closure wig.
1. Have Your Natural Hair Done
Wearing wigs is a protective style for our natural hair. Be sure to wash your hair before installation, especially when you plan to wear a wig for a long time. A clean scalp is vital for scalp health. 
You can either put braids underneath your wig or a nice flat ponytail. It's essential to have a foundation, or your hair will be puffy and look very unnatural. Slick your edges back and make sure not to leave any hair out.
Wear a wig cap after making your natural hair done. It protects your natural hair from being damaged when you wear the wig. Choose a similar color to your skin and apply some powder to it. That will make it look like it's a part of your scalp.
2. Keep Your Skin Clean
Avoid wearing makeup before you install it because it might interfere with the products you will use. 
Clean your face with water and a facial cleanser.
3. Install With Elastic Band Method
Put the wig inside in or inside out to feel if the capsize is big or small for you. Adjust the band to a suitable length. Don't pull it too tight, or you'll get a headache within 10 minutes. Let the band stay behind your ears and on your nape.
Walk around in the room. Don't continue until you feel comfortable with it.
Here is a tip for the wig purchase - make sure there's an elastic band attached to the unit. It's essential for beginners.
4. Wig Placement
Put it on your hairline, and then scoot it up a couple of centimeters so that it's not directly on your hairline when installing the unit.
The advantage of doing this is avoiding using glue directly at your hairline. Otherwise, when you do the wig remover, there's potential damage to your hairline. Please remember that we wear wigs to protect our natural hair instead of harming it.
A lot of beginners put the wig too close to their eyebrows. It minimizes your forehead. It looks not natural. Or they put it too far back, and then your forehead looks more significant than it may be. Well, practice until you find a perfect position.
5. Cut Lace
Make tiny little zigzag motions as you go from one part to another. Find the best medium, not too close, not too far. Cut off enough just in case you have to make mistakes; you can go and trim the rest off.
6. Use Glue
Put one layer of spray or glue on. Take your fingers to rub it back and forth to avoid the drips. Hold it down with two fingers and blow-dry it unit it's dry.
You can use Got2B glue; you can use hairspray; you can use anything that your heart desires, keeping the wig where we place it in our favorite spots.
7. Style
Give the unit a middle part or side part as you like. Use a hot comb to make it stay flat. Put a little makeup on the part to blend the part. Then do any styles as you like!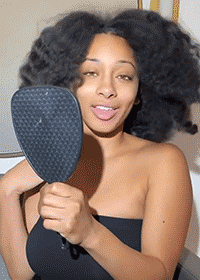 So far, I have listed all the steps and details for installing a lace closure wig. The rest is practice. Practice makes perfect. Installing a wig by ourselves is no longer impossible. Be confident you can do it.
Many people may ask, "Whether we need to bleach the knots?" or "How to pluck the hairline?" In fact, with the development of the wig industry, most of the wig vendors have been very mature. They make the wig very realistic. We don't need to bleach the knot or pluck the hairline anymore.
Of course, if you are a perfectionist, you may still want to do something to make your wig look like it was custom-made for you. Here's a little advice on bleaching and plucking.
Bleaching the knots
Use the right products to do the bleaching. Start with a 30 developer (or 20 developer, to be on the safe part) with BW2 powder. Put the mixture on the lace closure and wait 7-15 minutes. Don't keep it on for too long, or you'll most likely bleach the roots.
Plucking the hairline
Scoop out the first row of hair all around the closure. Pluck one side of the closure first and then the other side instead of doing the whole thing at once.
Move the tweezers from one part of that closure to the other part of that. Don't stay in the same place for far too long.
Summary
There're 7 steps for how to install a lace closure wig. I hope they'll help you. If you have any further interests or questions, please leave a comment below or contact us via email.