Tape In Extensions vs Clip In Extensions, Which Is Better For Black Hair
Choosing the right hair extensions can sometimes be stressful because there are so many options. If you don't want to spend the time or money sitting in a salon chair that frequently, to have those same as salons is very convenient.
Tape in and clip in hair extensions might be the best choice. You can install them yourself at home. Let's take a look.
What Are Tape In Hair Extensions
As the name suggests, tape in hair extensions come with pre-taped wefts composed of medical-grade adhesive. The tapes are usually four-inch long and one-inch wide.
After removing the sticker from the adhesive, a thin strip of your natural hair goes in between the two pieces of adhesive. It looks like the extensions sandwich your hair.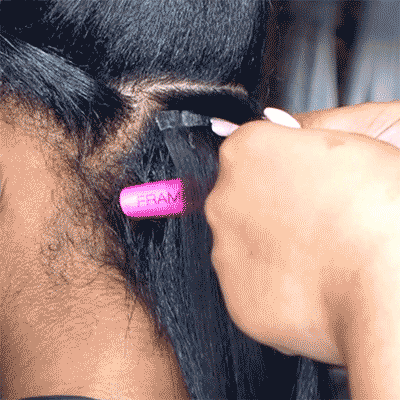 The tapes are very light, and they blend easily with natural hair.
Tape-In Hair Extensions Pros
Last A Long Time
Tape hair extensions are considered to be semi-permanent extensions. Depending on how fast your natural hair grows, it can last around 6 to 8 weeks.
Tapes Are Reusable
Generally, the tapes are reusable, up to three or four times. You can remove or re-install them at any time. You won't waste any hair. You can even replace the tapes when they don't work well. It helps extend your tape in hair extensions' life.
Comfortable To Wear
The tapes are thin and lightweight. They lay flat against your head and never pull your hair.
Wear Hair Up Or Down
You can wear hair up or down without the hair extensions showing. Unlike other hair extensions, you don't have to worry about people peeking in.
Workout Friendly
You can wear the tape in hair extensions in the shower, swim, and work out. You have to remove the hair with other hair extensions to participate in these activities, which can be very time-consuming.
Tape In Hair Extensions Cons
Price
Generally more expensive than clips in hair extensions.
Time-Consuming
You can DIY on your own. If you don't want to leave the tape-ins to the pros, it takes 40 minutes at least to install a full head.
Lots of maintenance
Tape in extensions require lots of maintenance. If you want them to last, it's a must to maintain the extensions daily.
Be Care To Remove It
Incorrectly removing tape in hair extensions can break our natural hair or cause damage. Be sure to remove it with professional bond remover. You may also need shampoos to ensure no adhesive is left in the hair.
What Are Clips In Hair Extensions
Clip in hair extensions are another form of hair extensions where we cut the hair weaves into different small sections, and sew clips on them.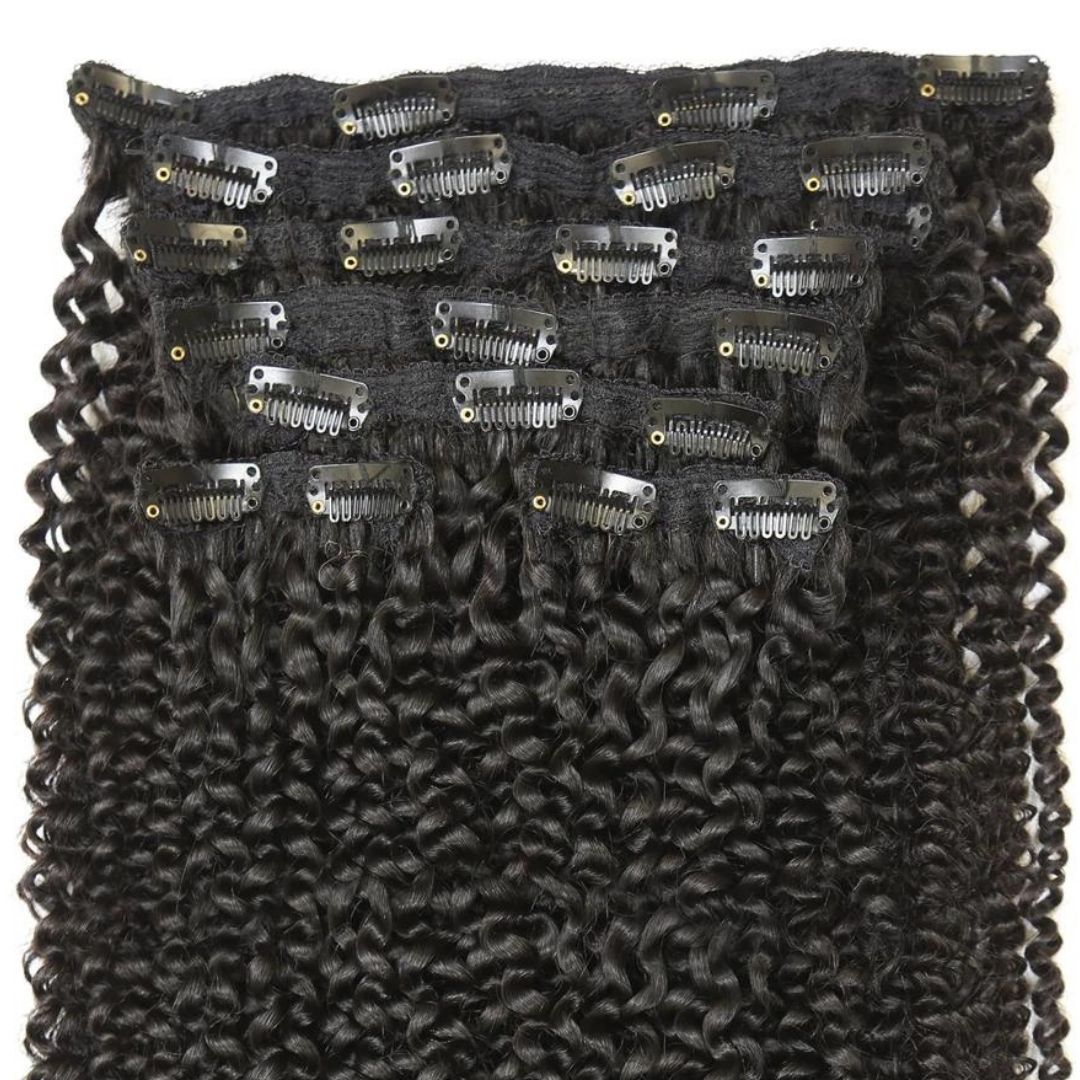 It is a quick and easy way to get longer, fuller hair. It's a temporary extension solution that you can put on or take off at any time.
Clip In Hair Extensions Pros
The Easiest Hair Extensions
It's known as the least permanent style of hair extensions. It takes 5-10 minutes to put them on at home. You don't even need any tools for application.
The Safest Way To Extend Hair
There's no damage to your natural hair. Clip into your hair without any chemicals, heat, or glue.
Long Life Span
The clips can be opened and closed over 1000 times. With good hair care, clip-in hair extensions last up to a year or longer.
Price
Clips in hair extensions are usually more affordable.
Clip In Hair Extensions Cons
Heavy
Clips in hair extensions are heavy. They are not suitable for thin hair.
Unfriendly To Workout
It's very easy to slip off. You can not wear them to the gym or even sleep with them.
Conclusion
Tape in extensions or clips in hair extensions? Now that we've seen the pros and cons, take some time to consider your hair type, lifestyle, and the look you want to achieve before deciding to try them, which will help you choose the best type of hair extensions.
---